GENERAL
GDPR-headache for US companies
Just when you thought you heard the last of GDPR…
Some of the points GDPR covers relate to where companies can store user data and what they can do with it.
Many companies naturally store it in the US. And that's fine because a thing called the Privacy Shield Framework exists.
But this is also where the headache starts.
The EU Parliament has seen that "current arrangement does not provide an adequate level of protection required by Union data protection law".
And that's bad news because over 3,000 companies rely on it, from big ones like Facebook, Google, Microsoft and Twitter to smaller services, like Active Campaign.
The Parliament is setting 1st September 2018 as the deadline until the US has to be fully compliant, otherwise, the Privacy Shield will probably be suspended.
From our understanding, that will mean that companies cannot legally store or transfer user data for EU citizens to the US.
---
FACEBOOK
MeWe wants to take on Facebook
Where would people go if they left Facebook?
Zuckerberg claims that Facebook is not a monopoly, but if all your friends and social life stays on Facebook switching to another platform doesn't sound that appealing.
However, people value their privacy more nowadays and things like the Cambridge Analytica data-sharing scandal can lead to people leaving Facebook and looking for alternatives.
With Facebook's "if possible buy, if not possible copy your competition" policy there are not that many real alternatives out there.
MeWe is trying to become one. It is fully focussing on the privacy angle and it positions itself as the anti-Facebook – "Your private life is not for sale. No ads. No Spyware. No BS"
MeWe features, including group and private messaging, a news feed, events, groups, but also the general look are very similar to Facebook.
Their business model is not. There are no ads. People can use MeWe for free but can pay small fees for add-ons like more cloud storage for their photos and videos, secret chats or custom emojis.
MeWe just raised $5.2 million in funding and has big ambitions according to its founder Mark Weinstein.
Weinstein projects that the platform's user base will grow to 6 million members this year, 30 million next year, and – wait for it – 500 million by 2022.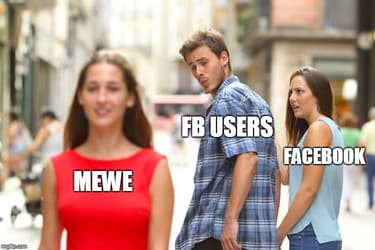 Things Change – Facebook called itself a publisher in court
For years Facebook has insisted that it's not a publisher – "We're a tech company, not a media company".
On Monday, while the company was defending itself against charges accusing Facebook of defrauding developers by cutting off their access to user data, Facebook's legal defence made the claim that it is a publisher and can exercise editorial discretion.
"The publisher discretion is a free speech right irrespective of what technological means is used. A newspaper has a publisher function whether they are doing it on their website, in a printed copy or through the news alerts" Sonal Mehta, a lawyer for Facebook, said in court.
So far the approach of saying "We're not a media company. No one is a journalist. We don't write the news that people read on the platform." worked well for Facebook.
Now, after publicly positioning itself as a publisher, it puts more responsibility on the company when it comes to what content is spread on Facebook.
The Founding Fathers and hate speech
Imagine you're a proud American and sometime this week, like on Independence Day you posted excerpts from the Declaration of Independence on your Facebook wall.
Or you could be a newspaper like Liberty County Vindicator that did that.
Well, according to Facebook's algorithm, paragraphs 27 to 31 are considered hate speech and thus you shall be given the ban hammer. At least on that post.
Facebook did reinstate the post and apologised.
This sparked several debates, but what we want to bring up are Facebook's imperfection and numerous false-positives.
Expect to have more and more issues with your ads and your ad accounts.
Facebook's Influencer platform is live
But limited to a few brands focusing on the USA.
Even so, you can check it out right here, and you can add your email to the waitlist.
This is something that was leaked back in May. Having so many features and apps, Facebook seems to be running out of good names.
This is called the Brand Collabs Manager.
---
TOOLS

Some tools to make your life easier and business better
Let's start with our favourite recommendation of the bunch today.
You know by now that Facebook has this feature to see all running ads from a page, aside from a few specific ad-types.
And we're sure you ran to spy on your competitors. We did that too.
The only thing we were missing is an easy way to download their videos!
But we found this cool Chrome extension that seems to do the job well. It's called FBDown Video Downloader and you can check it out here.
OK, next one is mostly for people interested in e-commerce. You are probably familiar with Wheelio, but have you heard of Dealio?
Dealio brings scratch tickets to your store and you can give discounts using this simple scratch game.
Check out the demo on their website.
We're not done yet. Do you already have a favourite calendar app? Probably yes.
But even so, you should check out TeamUp Calendar.
As the name suggests, the power of TeamUp is shared calendars for teams but it can work well for reservations, conference agendas, sporting events, etc.
We're using it to schedule our newsletter sponsors. Simple and effective, we like it!
Last on the list…
Struggling with coming up with new angles for your awesome campaign? Well, the Marketing Bullshit Generator is there to save you!
This is half troll, half useful tool. If you run through enough buzzwords and phrases, some of them will give you an idea for a real campaign.
Speaking of which, over the weekend we'll "cultivate cutting-edge models". What will you be up to?
---
POOLSIDE

CHAT

Cool tech, (funny) business, lifestyle and all the other things affiliates like to chat about while sipping cocktails by the pool.

How To Be Less Wrong
Rationality, truth, facts… It can get complicated because we, as humans, are very emotional. We, as a marketing community, should know.
We rely on emotions to sell people a bunch of stuff they don't really need – but we can make them really want it!
That said, as a marketer you probably want to understand how the brain ticks, as much as possible. 
At least we do.
And that's why we're fans of a website called LessWrong.com.
LessWrong is a community that wants to give rational thinkers tools to network and express themselves.
You can find topics such as how to actually change your mind, rationalization, and how to choose the right charities. It also has new posts daily.
It can be an enjoyable and refreshing weekend read, so check it out!