GENERAL
Why you need to learn to say NO
Shortly before any major affiliate conference, you are likely to get approached extremely often by people asking for a meeting.
So much so that you would need 48 hours a day.
Now, while we think you should have a full schedule when you go to a conference, you have to learn to pick your meetings. This is just the point that made us think of the topic of saying "no" to certain requests.
It applies just as well to business opportunities.
Here's the deal. People want to avoid confrontation and say "yes" much too often. Then they tend to overcommit their time, energy and even money.
All successful people we have ever met know very well they have to say "no" to many proposals.
They plan their conferences on their time, they don't take unscheduled calls. They also keep to their principles when it comes to business.
One example we can give here from our own little business at WHAT THE AFF is part of our sponsors' vetting. We've rejected sponsors several times when their products simply didn't bring any value to you guys, the readers.
Now, if you have trouble saying "no", maybe you aren't using the right words. Here's the one not-so-weird "trick" that just works.
Try "I don't" instead of "I can't".
"Can't" implies that you want to do it. "I don't" means you've established certain rules for yourself.
And if people ask why, you can simply say it's your principle and you are sticking to it.
Whether you are getting spammed by conference meetings request, affiliate managers flooding your Skype with requests to run offers you don't care about or just someone always asking you to get drunk and waste time, tell them "no" and focus on what matters to you!

The little blue birdie lets your chirp in more places
Twitter's promising few quarters means it's again interesting for advertisers. And they want to take a page out of the Facebook… ehrm, book so are bringing new ad placements.
The company started testing Promoted Trend Spotlight ads.
This ad gets put on top of the Explore section of Twitter. That's right above all the trends Twitter recommends for you.
While this sounds good, from our experience, it would also be great if Twitter upgraded its ads manager. That's seriously lagging behind Facebook for now.
Did this peak your (P)interest?
Small update coming from Pinterest too. The platform is certainly very small compared to the big guys like Facebook, Google, and even Twitter, but the audience is generally more often in buying mode.
So that means any effort to bring more users to the platform can mean more users interested in buying.
What Pinterest added is group boards, where users can communicate with others and collaborate on boards.
And what is Facebook cooking these days?
Well, they shared over a petabyte of user data with Social Science One, who will be doing some research when it comes to the role of social media in elections and democracy.
In other words, they'll dig deeper to see how FB can sway elections and public opinion.
And on the same topic, the UK ICO that fined FB £500k calls for an "ethical pause" around the use of microtargeting for political campaigns.
The pause is unlikely to happen but at least they're asking. Facebook will probably take our advice and just say "no" to that, for now.
---
FACEBOOK
Ever wanted to hear from a FB rep who is now on the other side of the business?
Meet Brandon Stewart. He worked at Facebook for 4 years and now runs his own company.
His story is inspiring, motivating and a great lesson for any digital marketer.
From being a mechanic and suffering a snowboarding accident that leaves him paralyzed and living on a $583/month cheque to getting a job at Facebook, to opening his own agency.
The interview done by James Van Elswyk goes through all of Brandon's story.
They also go into Brandon's strategy for Facebook Ads:

Auto vs manual bid
Funnel vs direct to store
3rd party tools
Scaling, and more
Check out the 25 mins interview here.
Speaking of scaling, 4 methods from Ryan Steenburgh 
There are many different ways to scale on Facebook, all with their pros and cons, some more consistent than others too.
Ryan shared his 4 methods in the Facebook Ad Buyers group.
1) If an ad set has very high ROAS, he scales by duplicating it 10-15 times,at the ad set level, not campaign. And it should be scheduled to start the next day, right after midnight.
He also adds automated rules to pause ad sets that are not performing after they've been duplicated.
2) Auto-bid to manual bid. Easier to quote Ryan directly here:
"Let's say you have an ad set on automatic bidding (lowest cost) performing, and now it's time to scale. Look at the cost per purchase of that ad set. 
Let's say it's $10 cost per purchase just for simplicity. What I'm going to do is duplicate the ad set that is performing 8 times, and I'm going to edit the bidding.
Keep it on lowest cost, and check the box that says 'bid cap'
Now I'm going to set the bid cap to $2 higher than the metric and keep them going up. So we'll have a bid cap at $12, $13, $14, $15, etc etc etc until all 8 of the ad sets have a different bid cap.
Turn off the ones that don't spend.
If NONE of them spends, start the bids at the highest one and go 8 higher.
So if we started at $12 on the first one we would have ended at a $19 bid. So we'll just change the bids to $19-$26. Turn off the ones that don't spend."
3) Duplicate and raise budget 10-20x. Also setup after midnight and set up rules for certain KPIs. It's important to pause ad sets that don't perform.
4) A steady budget increase, every 24 hours of 10-20%. Slower but should be more predictable. One thing we'd like to mention here is that Facebook says learnings reset only if you raise the budget by 50% or more, so in theory, it should work to increase the budget 40% every 24-72 hours.
---
E-COMMERCE
Gretta van Riel talks Influencer Marketing
In this Interview Eric Dyck from iStack Training talks to Gretta Van Riel, who started out in e-commerce in 2012 and grew five multi-million dollar brands, about influencer marketing.
She's also the author of that case study with $232k in sales in one minute.
Our key takeaways:

Besides driving sales with influencer marketing campaigns you can focus on brand awareness, increasing your social following and content creation.
Look for influencers that are skilled in content creation and use them as a content generation machine. A big plus about that is the social proof element.
Even in the early stage when dropshipping you can work with influencers to test if your product works and later on can scale it and get it manufactured yourself.
Trying to increase your social following? Giveaways!
While tracking your campaigns is harder you can still work with unique personalized discount codes for each influencer. Look at the breakdown of your traffic after an influencer published a sponsored post and see how IG traffic performs compared to others.

If you're working with influencers or are considering to do so we recommend checking out the full 40 min interview.
---
POOLSIDE

CHAT

Cool tech, (funny) business, lifestyle and all the other things affiliates like to chat about while sipping cocktails by the pool.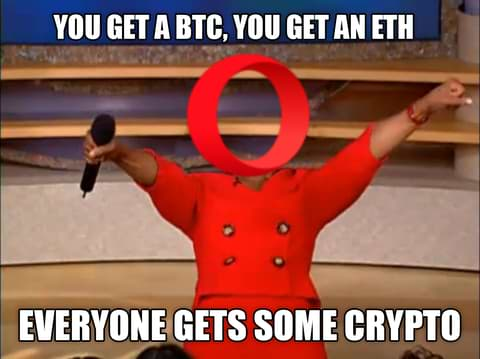 Opera (probably) launches native crypto wallet
Have you marked the date: 17th July 2018?
That's when some master triangle jugglers predicted BTC will reach 100k.
The way it looks now is maybe it's 100k total market cap, not per coin.
Jokes aside, crypto has some useful developments, one of which is Opera browser adding a native crypto wallet. Probably.
We say probably because although several news outlets reported on this, the announcement is no longer available on Opera's website. For now.
To the moon!