GENERAL
Next week Affiliate World Europe is taking place, so a fair warning – there will be less activity on Facebook groups, and plenty of updates from us from the conference itself.
We might even be late with a newsletter or two.
Amazon opened VR kiosks 
Amazon announced that it has opened virtual reality kiosks in 10 shopping malls to promote its upcoming Prime Day shopping event.
Amazon transports the shopper into a city filled with Prime Day products.
Shoppers can walk through rooms that reflect current Amazon store sections, including Bath & Beauty, Kitchen & Dining, Fashion, and Prime Video.
Through Oculus Touch controllers, customers can handle any product in full 3D, including clothing that can be placed on holographic people to determine fit and smartphones that can be examined from all angles with pop-up specification windows.
Amazon's VR kiosks launched in 10 popular shopping malls throughout India with the idea to convert brick-and-mortar customers into Amazon Prime members.
The question we have is: Can we just pay in "virtual" currency too?

Google Marketing Live updates
Google's Marketing Live event has yielded yet another slew of exciting new features. 
Innovation across all Google advertising products focuses on three core concepts: value, transparency, and trust. And probably also on not getting grilled like Facebook did after the Cambridge Analytica scandal.


Easier Opt Out of Ad Personalization: This is, of course, a pain for advertisers, but at least people have to actively opt out to not get targeted anymore.
AdWords becomes Google Ads: New name, not a lot more to say.
Google Marketing Platform: Combines a ton of tools like Analytics, Data Studio, Tag Manager to have them under the same roof and enhanced collaboration features.
TrueView For Action: This helps you advertise to prospects on YouTube who have recently searched for your products or services on Google.
Lead Ads On YouTube?! Lead ads on YouTube will combine the unfathomable reach of the world's most popular video platform with the ability to capture the contact information of valuable top of funnel prospects.
Responsive Search Ads on SERP: Google will automatically test different combinations of headlines and descriptions and learn which combinations perform best. Responsive Search Ads will serve the best message to different searchers depending on the keyword they search for, their device and their past browsing behaviour.
Mobile Speed Score Gets a Column: The tool scores landing page speed on a ten-point scale–from "very slow" to "extremely fast" automatically
Cross-Device Reporting: Compare segments, visualize data, and distinguish usage across desktop, mobile, and tablet all within Google Analytics.
Smart Campaigns: Smart Campaigns are tailor-made for small businesses with little in the way of paid search expertise, and little in the way of time.
Auto-optimized landing pages. The functionality will provide business owners with an appealing alternative to creating resource-consuming, product-centric websites.
---
FACEBOOK
The effect of budget changes on your CPA
"Double, triple, 10x your budget to scale!"
"No! Gotta go 10% per day at max"
"Nah, you start low, then double, then go half when it's not good, you should always change it"
Those are some of the quotes you'll hear presented in one way or another when it comes to your Facebook ad set budgets.
Luckily, the people at CompanionLabs have some real data on this. They show the CPA change in percentage based on the budget percentage increase and audience size.
For example, a 250% or more increase in the budget on an audience size of less than 2.5M meant an approximately 175% increase in CPA cost.
Check out their whole report in this link.
Does firing the FB Pixel on a redirect cause issues?
There are situations in which you want to fire the pixel on a redirect, like when you send traffic to a website where you can't put the pixel. For example, to your Amazon store.
Chris Colvard posted his script in the Facebook Ad Buyers group.
Three things happened.
1) People thanked Chris
2) People provided some alternatives
3) A discussion ensued on how Facebook reacts to redirects.
As you might know, Facebook doesn't really like a poor post-click experience, and redirects generally don't help with this.
Furthermore, some trackers have been known to cause actual ad account bans because of their redirect links.
Chris did not have an issue using such redirects, but we do think you should proceed with caution if you do need to try such a thing.
Brandon Stewart Q&A
It seems yesterday's interview with Brandon Stewart caught a lot of readers' attention.
Not surprising. His story and his skills are both extraordinary. And there's more!
James had a Facebook Live Q&A with Brandon where the Purple Knowledge Lab group asked him all their questions.
You can see the 40 mins replay right here.
---
SPONSORED
Any offers you need, #WeGotzha
Or well, they… Gotzha.
You just have to take a look at their website and you notice these guys are nuts – the good kind of nuts. So many tuk tuks – no secret they are based in Bangkok.
They live the affiliate lifestyle to the fullest and work their hardest so that their affiliates also join in on the fun… and money!

So what can Gotzha offer you?
First off, they have a range of offers that work well with all popular traffic sources – pops, Facebook, AdWords, native.
Mobile content
Apps
Sweepstakes
Casino
Crypto
Leadgen
Weekly Net 4 payments – always good to get paid sooner, rather than later, don't you agree?
Dedicated sparring partner, aka affiliate manager. The type that knows the ins and outs of the industry, not the type that just sends you an unreadable list of offers you don't care about.
They sometimes also throw some sick parties, to which their affiliates get priority. I mean, they have offices in Amsterdam, Singapore and Bangkok – parties there are bound to be sick.
Go check them out, sign up to test their offers and print some money.
Oh, and if you're looking for a job – they're searching for an affiliate manager to join their Amsterdam office.
---
POOLSIDE

CHAT

Cool tech, (funny) business, lifestyle and all the other things affiliates like to chat about while sipping cocktails by the pool.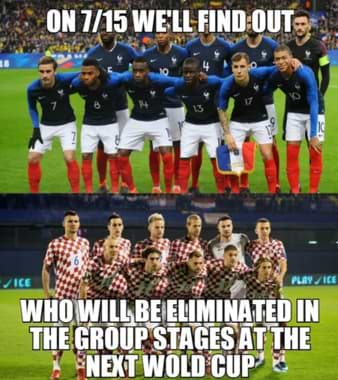 The FIFA World Cup is coming to an end
And with it, so does an illegal gambling ring that held more than $1.5 bil in live bets, all in crypto.
That's quite the volume they managed to pull. They did not use any untraceable coins, which probably didn't help stay under the radar. The platform accepted BTC, ETH and LTC only.
The platform had ~8000 "agents" who managed to recruit ~330k members excited to bet.
In common crypto-fashion, there was also a commission based incentive programme, which then turned the whole thing into a pyramid scheme.
We're not saying commission based incentive are all pyramid schemes, but, especially in crypto, they turn into one.
Tough luck, maybe things will be better for crypto-bets at the 2022 World Cup!
WHAT THE

 AFF… is reading

Here at WHAT THE AFF we enjoy reading books on business, economics, psychology, marketing and the likes.
We basically always have one book we are reading and very little off time. The ones we find very good, we'll share with you.
"When a friend asked what is a good book for learning how to organize his team for his growing e-commerce store, this just instantly popped into my mind.
Sam Carpenter does a great job at breaking down a business into simple systems that you can explain to anyone.
As long as you are not completely a solo-entrepreneur, this book is an excellent read that will give you the immersion you need into the systems mindset."