SHOPIFY
Yes, Shopify had issues
If you didn't know, Shopify had a significant outage yesterday that lasted for about 1 hr.
And it wasn't an issue unique to one person.
People went to the FB groups to ask if everyone has the issue, and sure enough, they did.
You can see the history of the incident on Shopify's status page here too.
These things happen once in a while and are probably some of the most frustrating events. Some tips for the future:
Setup notifications when a vital service is down
Instantly pause ads when you get it to not get your FB ad account suspended
Try to find backups that you can put live when this happens
Also, plan with these things happening every once in a while and don't overestimate your profit assuming everything will go smoothly.
That's one of the most common mistakes we see people make: they extrapolate their yearly income from a few successful months when everything was perfect. That's not the norm.
---
SOCIAL
Instagram and 2-factor-authentication
A different issue that is plaguing Instagram users is that of hackers reassigning phone numbers to different SIM cards, then using them in the 2-factor authentication process for Instagram.
The good news is Instagram is planning on a non-SIM card 2-factor authentication solution.
TechCrunch explains what used to happen and what Instagram plans to do about it right here.

Reporter went undercover as Facebook moderator
A reporter for the British broadcaster Channel 4 went undercover as a Facebook moderator at CPL Resources, a Dublin-based content-moderation contractor.
The person found that Facebook was failing to delete inappropriate content like violence, child abuse and racism.
There are also inconsistencies between the way moderators got trained to observe Facebook's rules.
Facebook's statements to unwanted media attention, in contrast, are way more consistent.
"We're sorry. Where we know we have made mistakes, we have taken action immediately. We are providing additional training and are working to understand exactly what happened so we can rectify it." 
According to a CPL Resources staff member violent content was left on Facebook because "if you start censoring too much, then people lose interest in the platform, it's all about making money at the end of the day."
Facebook is facing the same problems as every other traffic source. The big difference here is that if inappropriate content gets published and not taken down by moderators Facebook gets way more attention in the mainstream media than others.
It's hard to draw the line perfectly when it comes to censoring since every single image in a video is a bit different.
For Facebook less censoring means users spend more time on the platform, see more ads and Facebook makes more money, at least as long as they don't become part of documentaries like this one.
To see where Facebook is a bit too harsh when it comes to taking down content check out our poolside section.
Depending on your geo, you might be able to watch the full documentary on Channel 4's website right here.
---
INTERVIEW
WHAT THE AFF interviews – where we bring you short and sweet interviews with the top online marketers on this side of the Milky Way.

We've managed to get Matej Cechvala, aka matuloo on the STM Forum to share his story with us today.

Matej is one of the most experienced affiliates we know, having been in the industry for about 20 years. 

He is also one of the most helpful and active moderators on the STM Forum. You guys who have an account there already know him, we're sure!

He also blogs at matuloo.com.

WTAFF Crew: Describe yourself in 20 words or less (focus on personality, not affiliate experience).

Matej: I'm a positive "family oriented" person who loves good food, BBQ, fishing … and to help people who want to be helped.

WTAFF Crew: How long have you been in the industry for, what's your beginner story?

Matej: I started at the end of 1998, that was the year I created my first account with an affiliate network.

My beginner story is not anything special or fancy… I was still living with my parents at that time, studying at a business university. Those were the times when internet connections slowly started to get installed in homes and offices across my country and since my dad was a running his business, we got one of the first connections on "our street". 

Let me add we got connected through a 14.4 kbps modem 🙂

I used the net to find some info or kill some time in the beginning, but soon enough I started to think about other uses. At some point, I noticed a text link that I kept on seeing again and again at the bottom of many websites. It was something like "Webmasters clicks here to make money", so once I clicked it and that's how I found out there is something like Affiliate Marketing in existence. 

And the rest is history 🙂

WTAFF Crew: What's the biggest challenge you are facing in AM/your campaigns/your business right now?

Matej: I would say that the challenges keep on repeating… I've seen it a few times during all those years in AM already, the cycles keep on repeating themselves. 

It's always like this: some new product/vertical/billing method or anything that is groundbreaking in some way emerges and revolutionizes the business. Tons of money are made, people are becoming rich, hundreds or thousands of affiliates dive in and think that it will go on forever.

Then some affiliates start to rape the concept, customers start to complain and regulations kick in and making money becomes harder. Affiliates realize the party is over, declare AM as dead and leave by the dozens. 

At some point, it stabilizes and we are ready for the next big thing to make AM flourish again 🙂

So right now, I'm trying to find a solid replacement for the mobile boom that was driving my business for the past few years, that's my current challenge.

Crypto might be it, or not… in the meantime I'm focusing on the evergreens like dating and other lead-gen options… paying close attention to NOT miss the next money race 🙂

WTAFF Crew: If you were to start today, what would be your first 5 steps?

Matej: I would focus more on the available education channels. When I started, I learned all myself, which was very time-consuming. 

Now when I see how fast some people reach success on STM Forum, when given the right advice… I see I wasted a ton of time. 

I would invest in the right tools… tracking, spy tools, the right hosting … I tried to save money when starting, which was not the best decision. I learned that it's needed to invest to make more.

So the first steps would be to :

1. get access to the right info (STM, blogs, online courses …)
2. get the right tools (spy tool, hosting, good tracker…)
3. connect with other affiliates (forums, groups, conferences…)

Not sure what to chose for the remaining 2 points… with the right tools and connections in place, it's all about testing. I would definitely spend time on researching the market I decided to work with and explore the competition, so let's make it point 4 🙂

4. research the market and do a proper spy session on your competition.

And for the last step, I guess it could be finding the right partners to work with … networks with clean payout history, sources with solid traffic and not just bot clicks.

5. join several affiliate networks and traffic sources.

WTAFF Crew: Top 3 forums/blogs/newsletters to follow in AM to stay ahead of the game.

Matej: I spend a lot of time on STM naturally, so I get a lot of info from there … not just from the posts, but also by talking to the people I got to know on the forum.

I check AffBuzz from time to time, to see which of the blogs has a new post and read it.

And I started to rely on your newsletter a lot lately as well, I like the format a lot!

WTAFF Crew: What do you like the most about this industry?

Matej: It's two things actually … I love the freedom it gives me and I love the fact that well-optimized campaigns keep on making money even when I sleep. 

The ability to live on my own terms is really priceless … I hate to follow some schedule and I hate to wake up early, so working my OWN hours is really extremely important to me.

WTAFF Crew: Digital nomad or well-established home base? Why?

Matej: Established home base … I have a family with 3 kids, so it's kinda impossible to live the life of a nomad. On top of that, it's never been my thing in the first place … 

I prefer to stay close to my family and relatives, you could say my roots are pretty deep and tied to the place I spent my whole life at.

I do like to travel though, so I've had my share of it… but I still needs some place to return to and call my home.

WTAFF Crew: Affiliates and online marketers like to show off sometimes. We want to switch it around so we ask what's the purchase you are least proud of?

Matej: Hm, I'm pretty bad at handling money actually, I always tend to spend more than I should, so you could say I'm generally not that proud about how I manage my finances. 

I bought many things as a result of an impulse "I need this now" decision … for example a Quad that I drove about 300km with, in like 10 years 🙂

WTAFF Crew: We gotta say that quad gave us a nice laugh, haha. Good luck at AWE. For those who are attending, you can say hello to Matej at the STM Forum booth!

Got some good questions we should ask future guests? Do you want to suggest a guest? Any feedback you have, let us know!
---
POOLSIDE

CHAT

Cool tech, (funny) business, lifestyle and all the other things affiliates like to chat about while sipping cocktails by the pool.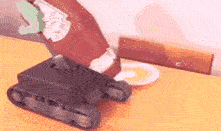 AI is imperfect – and that means many fails!
If you have ever tried running FB ads consistently, you ran into the issue – you read the policy (if you didn't, why did you start running FB ads?!) and then you still get your ad rejected.
Sometimes you missed something but it can also happen pretty often that Facebook's changes to their AI tools will throw a false positive.
In the recent developments, Facebook is leaning more towards being too aggressive, thus increasing false positives.
So why are we talking about this? There have been a few popular cases of FB's AI failing. One time it banned a post quoting the Declaration of Independence.
Then we also saw this article by Marketing Tech News listing a few other false positives: a lawn mowing company, a hair-waxing salon and Walmart used the word "bush" in their copy and was instantly associated with former President George W. Bush.
OK, what's the point of this? Well, you have to expect AI to be imperfect for a long long time. People will make these sort of mistakes very often too when faced with enough pressure to decide quickly.
We understand not many of you are that interested in the topic on a deeper level but this will become something you must be somewhat familiar with. Not just because of Facebook.
Think self-driving cars, drone deliveries and so on.
We recommend checking out a few of the intro materials on Coursera to get more familiar with the topic.
Watch a few videos there while waiting for the next season of Game Of Thrones.