GENERAL
Starting today's newsletter with the absolute best surprise from AWE2018.
One of our readers surprised Manu with this.
He printed the T-shirt himself and it was just amazing to see. Thanks for the awesome support Karolis!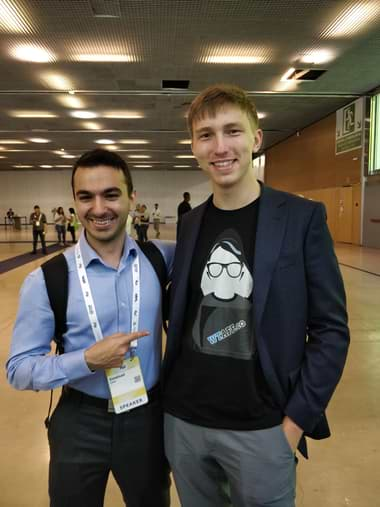 Zuckerberg's 90 mins interview with Kara Swisher
OK, we don't have to really give you a hint about what the topics in the interview are. All about misinformation, elections and that jazz that has been making headlines for a few months now.
Another thing that didn't change is that it seems, like most reporters Kara doesn't quite understand the challenge of deciding intent.
In general, it keeps the tone that is popular in the press to be very much anti-Zuck.
As we've said before, we think Zuckerberg and FB did plenty of things wrong but during this whole debacle, it's disappointing to see that those asking the questions seem to lack a deep understanding of Facebook and the issues surrounding it.
Reiterating the time – it's almost a 90 mins interview, it's not short. Maybe you don't really want to listen to it all but, hey, you can decide.
EU fines Google $5.1 billion in Android antitrust case
European authorities fined Google a record $5.1 billion for abusing its power in the mobile phone market.
The European Commission has decided that Google:
has required manufacturers to pre-install the Google Search app and browser app (Chrome), as a condition for licensing Google's app store (the Play Store);
made payments to certain large manufacturers and mobile network operators on condition that they exclusively pre-installed the Google Search app on their devices;
has prevented manufacturers wishing to pre-install Google apps from selling even a single smart mobile device running on alternative versions of Android that were not approved by Google.
The restrictions Google imposed on manufacturers breached EU rules since 2011 because Google's practices have denied rival search engines the possibility to compete on their merits. 
Competition commissioner Margrethe Vestager: "The preinstallation of the Google search engine on practically all Android devices is an advantage that cannot be matched."

In 2013 Amazon tried to license to device manufacturers its Android fork, called Fire OS. Manufacturers were interested but due to Google's restrictions, manufacturers could not launch Fire OS on even a single device since they would have lost the right to sell any Android phone with key Google apps.
According to the EC, Google also denied rivals access to valuable data from increased user traffic which in turn could have allowed rivals to improve their products.
The Commission said the size of the fine takes into account "the duration and gravity of the infringement". It had been calculated on the basis of the value of Google's revenue from search advertising services on Android devices in the European Economic Area.
While a one-time fine cannot cause lasting damage to a company like  Alphabet, of greater risk to its business are changes the regulators can require to how it operates Android.
20 years ago US regulators grilled Microsoft over its requisite bundling of Internet Explorer in Windows in a similar case. Microsoft sold 95 percent of Intel-compatible PCs and was herding users toward Internet Explorer over competitors like Netscape.
The Department of Justice responded with one of the strongest antitrust pushes in tech history, mandating years of close oversight on its source code and APIs, along with serious restrictions on how aggressively the company could integrate its browser into Windows.
When it comes to Google, it's hard for us to see where to draw the line. Requiring to pre-install certain apps doesn't seem outrageous, as long as you can remove them and/or install others and set them as default.
It seems Apple has the right idea with controlling their ecosystem so closely. Google is probably going to go that route too with the Google Pixel smartphones.
And that leaves us thinking – doesn't that make it harder for competitors as a result? Android, for now, is much more open than iOS.
Like in other cases as well, we worry a bit that well intended regulation will have the exact opposite effect.
This can likely make Google double-down on manufacturing and follow Apple's path, instead of trying to maintain a more open Android OS, where Google Apps are preinstalled by other manufacturers as well.
---
INTERVIEW
WHAT THE AFF interviews – where we bring you short and sweet interviews with the top online marketers on this side of the Milky Way.

Today's guest is Servando Silva. He's one of the most down to earth people we know in this industry, but don't let that fool you – he's seen great success in several verticals over the years and has become one of the most recognized figures in CPA marketing.
You can follow him at servandosilva.com. Now let's go straight to the questions.

WTAFF Crew: Describe yourself in 20 words or less (focus on personality, not affiliate experience).
Servando: I'm a tech-savvy guy. Love gadgets and anything electronics related. I prefer food and quiet bars over crazy parties and nightlife. When I'm not working I'm either travelling around, playing with my cat or having quality time with family and friends.
WTAFF Crew: How long have you been in the industry for, what's your beginner story?
Servando: I got into this industry in 2011 when I was trying to make an extra buck while having a regular job. My first dollars were made with Google Adsense and SEO/blogging was my passion for a couple years until I discovered paid traffic and the scalability it comes with (and risk as well).
Eventually, I started with FB ads and then got to know about the STM forum and eventually learned the ropes about CPA and other types of offers until i found a winner 4 months later while spending 2-3k in paid advertising campaigns.
WTAFF Crew: What's the biggest challenge you are facing in AM/your campaigns/your business right now?
Servando: From the very beginning I wanted to build something I could be proud of. And something other people could be proud and understand even if they're not in the industry.
Building white hat funnels and having to deal with customer support, different payment methods, building your own funnels, etc. are my biggest challenges at the moment.
It's much more difficult than selecting 3 top offers from a list and running traffic to them and cash in the conversions but much more satisfying and difficult to copy once you have something that works.
WTAFF Crew: For someone looking to build their own funnels and products, coming from CPA marketing, can you give us your 5 steps to get to a good level? You can include sources you found useful, forums, newsletters, etc.
Servando: Contrary to CPA marketing, there's a ton of info about building your own products, funnels, etc. online. That's what got me started 7 years ago and it's still what fuels me today from time to time.
I'm not sure on how to set it up step by step to be honest, as it's a bit different than CPA marketing but at the end of the day you will have projects that fail (more than the ones that become a success) and that's fine.
In this case the typical phrase of "build something people love" applies and I feel it's a mix between the typical CPA offers, eCommerce and even the popular CC submits as I love having recurring revenue from people.
My focus is in info products and the process I usually follow is:
Market research (check competition, prices, audiences on Google/FB, ETC.)
Test without a product first. Trying to sell something even if it doesn't exist you to measure the response of your campaigns
Once you have some feedback build a product/service that fulfils that necessity. This can take me and my team a couple weeks and sometimes up to 3 months.
Start selling it (FB is our main traffic source for it) and scale if possible.

Needless to say, this takes a lot of time and efforts and some of our projects have failed miserably due to not understanding the audience or geos.
We had a project we worked recently from March to June only to fail when we tried to scale and convert it into a recurring membership.
The initial tests selling with an e-store had promise but it ended up failing after 3 months of work. How many campaigns can you launch in that time when you don't need to own or build the product?
Anyways, as some resources I think the only blogs I still read around it are very small and targeted, but some of the big ones I still like after many years are:
– Smart passive income (although Pat's more focused on podcasts in the last years)
– Neil Patel's Quick Sprout blog
– blogs focused on building products/funnels like Shopify, Thinkific, Teachable and even the Clickfunnels group (I've got some friends who never touched CPA marketing and have made 7 figures with ClickFunnels alone).
WTAFF Crew: What tip would you give people starting out in your vertical today? What are the biggest mistakes beginners make there?
Servando: It's hard to define my vertical as we still run a lot of CPA campaigns in different traffic sources. However, the simplest mistake I keep reading over and over is not sticking with a traffic source/vertical and just spending some money here and there without having data to make decisions.
Also, not testing enough offers/landers/campaigns overall or testing too slow which takes time and effort and eventually they set for something else without having done much.
WTAFF Crew: What events do you find most useful, where can people find you usually?
Servando: It would depend on your vertical and sources. My favorites are Affiliate World Conferences. However if you're doing other stuff there are events for people who focus on building communities, sending emails, doing courses, etc.
WTAFF Crew: What is your biggest regret, what do you wish you had done differently?
Servando: I don't really like to think of regrets because I can't really do much about them unless it's a mistake I can avoid in the future. However, my biggest regret was not starting earlier because since I was 18 I started doing a lot of stuff online but my focus was never on making money or building businesses.
However, since I can't really change the past and I like to stay updated and test new things nowadays there's not really much regret after all. Maybe one regret could be stopping to mine bitcoins and selling them at $10 back in 2011, but this is something thousands of people share with me and it's all fun and games now. I love joking about it.
WTAFF Crew: What software / online service can you absolutely not live without for your operations and why?
Servando: Well, the basic ones like Domain sellers and Hosting are vital for most people in this industry. We couldn't do anything without them.
However, we use a lot of tools and apps to check things and they make our life easier but it doesn't mean I couldn't live without them. As long as I have a reliable internet connection, my laptop and smartphone with me it's game time.
WTAFF Crew: Affiliates and online marketers like to show off sometimes. We want to switch it around so we ask what's the purchase you are least proud of?
Servando: If we think about something related to internet marketing, there isn't really a choice here. I like to keep my desires in check and I don't go and buy anything unless it's worth an AB test or helps our operations.
If it's anything about life, again, I like to sleep over and think before pulling the trigger on most things as I've been always been like that. That keeps everything in check and I try to buy the things we really need in life.
Sometimes I check my Amazon account and see I spent hundreds of dollars in the last 30 days buying accessories and little things that aren't really necessary.
However, if something lasts for more than 6-12 months without being used and I notice it, it goes straight to eBay where I can recover 50-80% of the initial value and make another person happy.
I hate accumulating things and try to keep my apartment clean, sleek and quite minimalist.
WTAFF Crew: Muchas gracias, Servando! Always a pleasure talking to you. All the best and see you at AWA 2018!

Got some good questions we should ask future guests? Do you want to suggest a guest? Any feedback you have, let us know!
---
POOLSIDE

CHAT

Cool tech, (funny) business, lifestyle and all the other things affiliates like to chat about while sipping cocktails by the pool.
Some more crypto stuff
Because although it didn't go to the promised $100k, it did go up and it does have news.
Some of the good news we already told you on Tuesday.
There's another piece of news we consider good.
Basically, US regulators understand that crypto is a challenging asset to classify. We find that good news because it means they actually looked into it.
In short, they say that it can be a security or commodity and it can turn from one to the other depending on the use-case.
For people who try to look at more than just the price, there are still interesting things happening in the space.