FACEBOOK
Instagram TV is here to rival YouTube
As expected, on June 20, Instagram announced IGTV – a platform for creators that is designed to rival YouTube.

The twist for it is that it's for vertical video, thus very clearly mobile-first.

The IGTV app will let anyone be a creator, it's not just for celebrities.

There have been rivals to YouTube in the past, but none of them of Instagram's calibre. But what do we really know about this? Not much, we don't create video content on YouTube.

Good thing is, a few big content creators have given their opinion, including tech-review favourite MKBHD.

As a side note on the YouTube rivalry, Facebook also introduced more monetization tools for content creators.
Got a Facebook group? You can charge members a monthly fee!
The news is short – Facebook is launching paid groups.
You can charge a monthly subscription for a "premium sub-group" where you give out more benefits, for between $4.99 and $29.99 a month.
This, alongside IGTV, goes hand in hand with Facebook's path to more monetization models.
Right now, "they run ads", but having IGTV and paid groups could mean they can rival Netflix, Twitch, YouTube, all course hosting platforms, and just about everything on the Internet you can think of.
Oh, and if it wasn't obvious… You should see an influx of marketing gurus pitching their totally unique and outstanding paid Facebook group.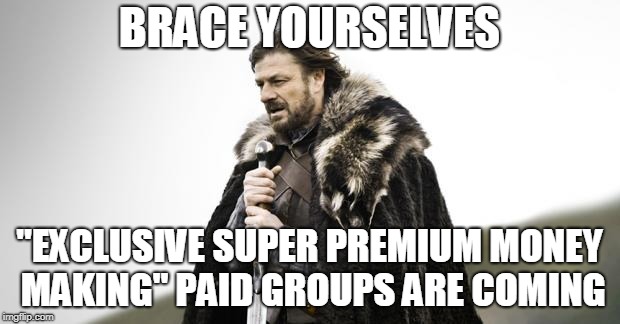 But wait, there's more!
That's not all that's new from the land of the big blue that is Facebook.
Autoplaying video ads in Messenger are a go.
This is an early test, so don't get too excited yet. What Stefanos Loukakos, who runs Messenger's ad business, said is:
"Top priority for us is user experience. So we don't know yet [if these will work]. However, signs until now, when we tested basic ads, didn't show any changes with how people used the platform or how many messages they send."
You could see the first auto-playing Messenger ads on Monday.
There's already a discussion brewing on the topic in the Facebook Ad Buyers group. Most people think that as a user, it should be annoying but as a marketer, it's of course great!
---
GOOGLE
YouTube is not going down without a fight
Well, YouTube will probably not even go down but that doesn't attract attention so yeah, we went for the more sensationalist claim.
Basically, YouTube is bringing new tools for advertisers. These are mostly focused on big brands for now but as usual, it will probably trickle to everyone very quickly.
So what are these new features?
Video Experiments – so you can split test creatives better.
Video Creative Analytics – audience segmentation, and later on reports on annotations in the videos.
Director Mix and Video Ad Sequencing – Creating more versions of a video from a template. You can swap certain elements like text, image, sound, etc. You will also be able to deliver them into the sequence you want to tell a better story.
---
SPONSORED

The best meetup for those who like to wear a darker hat
Are you in Barcelona on 18th July 2018? You know, for Affiliate World Europe.
Perfect!
Converting Team is throwing a "no rookies allowed" meetup for those interested in the dark arts of affiliate marketing.
This meetup is for those who want to network with industry leaders like affiliates, FB and Google magicians, and offer owners of the… darker variety. *wink wink*
Of course, there's high end catering and an open bar so drinks will be flowing – and we all know that's when the magic really happens when it comes to networking.
And it actually is exclusive. You must apply and get approved if you want to attend.
Click this link to RSVP and get your invite.
---
E-COMMERCE
Facebook Groups Roundup
We're not worried about the regular groups becoming paid only, not too soon at least. They will probably remain a big part of building communities on Facebook. Here's what's been going on in the last 24 hours.

Advice for testing ads to a cold audience
There are plenty of talks about how to retarget your audiences because that certainly generates very high ROI.
What Matthew Hendrix wanted advice with is how to create good ads for testing new products, to a cold audience.
Of course, it depends on the product but if you need help with this topic or think you can give Matthew a hand, go check out the thread in the Facebook Ads Experts Academy group.
Myth or fact: You should keep one product per ad account
There are plenty of rumours about what Facebook does without telling advertisers. One is that your ad account will gather data on how to bring sales to a certain product, and if you add more products you will confuse it.
Ryan Palmer brought up the topic in the Facebook Ad Buyers group – is this a myth or is it a fact?
If you go by what Facebook says, it won't matter as long as customer experience is great with all products.
The algorithm optimizes at the ad set level, so as long as you keep products in separate ad sets, you should not see any conflicts because you have 2, 3, or 10 products promoted from the same ad account.
There are other media buyers who rather go to the extreme route of one product per ad account though.
There's even a detailed answer from Depesh Mandalia on what matters and what doesn't. In short, he says:
"I don't believe you NEED one account per niche, as long as your definition at ad set level is steering FB's focus to the right audience BUT there's no hard and fast rule that beats testing."
Where do you stand?
---
POOLSIDE

CHAT

Cool tech, (funny) business, lifestyle and all the other things affiliates like to chat about while sipping cocktails by the pool.

What is CEO level productivity?
Have you heard of Harvard Business School? You can google it if you haven't…
Michael Porter and Nitin Nohria, who work there, studied the calendars of 27 CEOs over 3 months to get a glimpse into what these people really do.
TL;DR version:
CEOs work on average 62.5 hours a week – not 4 like Tim Ferris would have you believe.
They get almost 7 hours a sleep a night, on average. Not great but not too bad either. Sounds like sleep is a priority.
CEOs spend only 47% of their time at the company headquarters and about 72% of their time is spent in meetings.
The Crew's take:
If you are a founder or CEO, you have to be always on, no way around that. If you enjoy it or need the money, do even more than the average. Screw the 4 hour-work-week BS.
"Entrepreneurship is living a few years of your life like most people won't so that you can spend the rest of your life like most people can't."
You don't have to be a CEO for life – unless you enjoy it. Work hard, build your company, set yourself up for a comfortable life, then enjoy the fruits of your labour.
If you want to see the whole report, you can read it right here.